Pledge Update
2013 Final Campaign Total
1,414 pledges totaling $586,649!
That's 18% toward our goal of 25% participation
as of 2/4/14
Won't you join me?
Click to listen >>
I Support the United Way
Hi, I'm Dr. Gregory Threatte and I give to the United Way through the Upstate Community Giving Campaign.
The United Way has a process for evaluating the needs of our community and selecting charities who meet these basic needs such as food, shelter, education and clothing.
I'm busy and I trust the United Way in making choices that give me the biggest bang for my charitable buck.
So, please join me in supporting our community through Upstate's Community Giving Campaign.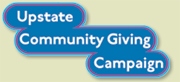 ---
Need Pledge Forms?
Call 464-4836 or download a pledge form.

Helpful Links