Pledge Update
2013 Final Campaign Total
1,414 pledges totaling $586,649!
That's 18% toward our goal of 25% participation
as of 2/4/14
Won't you join me?
Click to listen >>
I support L'Arche because they provide such a wonderful home for adults with developmental disabilities. I had a special friend, Hon, who lives there. She has Down Syndrome. They provide such a warm, nurturing, caring environment for her. She is able to lead just a wonderful life.
You probably have a charity that has touched your heart the way L'Arche has touched mine. I hope you can join me in this campaign by the supporting your special charity.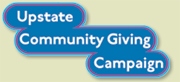 ---
Need Pledge Forms?
Call 464-4836 or download a pledge form.

Helpful Links