2016 Pledge
Pledge Total
As of 1/9/16 1,382 donors have pledged $528,291.
Thank you!
$100 ePledge Winners
Congratulations!
Day 1 - Beth DeRousie, IMT, Hospital Info Systems
Day 2 - Tree Carter, Record Storage
Day 3 - Darcy DiBiase, Marketing & University Communications
Day 4 - Beth Rolland, PM&R - Rehab Therapies
Day 5 - Nancy Ondrejka, CG Radiology RN's
Day 6 - Liliya Yatsyuk, Nursing-5E-Pre/Post
Day 7 - Patricia Racculia, Orthopedic Surgery
Day 8 - Karin McMullen, Nursing-Administration
Day 9 - Erin Peters, Office Of The President
Day 10 - Amanda Walsh, Clin Path Immunology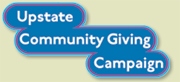 ---
---
Content
Won't you join me?
I support the Don Roller Fund
at Upstate Cancer Center
My name is Don Sadeckas, and I am happy to be a supporter of the Don Roller Fund. This fund was created last year in memory of Don Roller who worked in the IMT department here at Upstate.
Don Roller died of cancer last year. Don was a great person who went out of his way to ensure the needs of his customers were met and always left a positive impression. The Don Roller fund was set up to help with the great cancer work done here at Upstate University Hospital and the future cancer center.
I ask everyone, especially those who knew Don Roller, to join me in honoring him by donating to this fund through the Upstate Community Giving Campaign.