Pledge Update
2013 Final Campaign Total
1,414 pledges totaling $586,649!
That's 18% toward our goal of 25% participation
as of 2/4/14
Won't you join me?
Click to listen >>
Ken Redmore supports the United Way
Hi, I'm Ken Redmore and I have supported the United Way for years because of the many diverse programs they fund. They provide financial support to many, many programs that in turn help so many people.
I have personally seen how agencies have helped my co-workers and their families get through difficult times. It's the agencies' support and guidance that enables these families to return to their normal lives.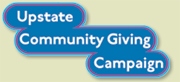 ---
Need Pledge Forms?
Call 464-4836 or download a pledge form.

Helpful Links