Pledge Update
2013 Campaign Update
1,302 pledges totaling $490,695!
That's 16% toward our goal of 25% participation
as of 12/13
Won't you join me?
Click to listen >>
Chris Mieczkowski supports the Kidney Foundation.
Hi, I'm Chris Mieczkowski and I support the Kidney Foundation. When my mother was diagnosed with kidney disease, I learned just how much you need your kidneys to survive. My mom's initial outlook was grim.
However, with help from the Kidney Foundation and my mother's doctors, she lived for many years, for which I am very grateful.
Please join me in supporting the kidney foundation or another charity of your choice thru the Upstate Community Giving Campaign. It's very easy to donate thru payroll deduction.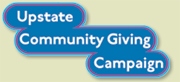 ---
Need Pledge Forms?
Call 464-4845 or visit:
Jacobsen Hall, Rm. 100
Weiskotten Hall, Rm. 1158
University Hospital, Rm. 1500A
Silverman Hall, Rm. 1104
Campus Activities Bldg, Rm. 326
Or
download a pledge form.

Helpful Links