2016 Pledge
Pledge Total
As of 1/9/16 1,382 donors have pledged $528,291.
Thank you!
$100 ePledge Winners
Congratulations!
Day 1 - Beth DeRousie, IMT, Hospital Info Systems
Day 2 - Tree Carter, Record Storage
Day 3 - Darcy DiBiase, Marketing & University Communications
Day 4 - Beth Rolland, PM&R - Rehab Therapies
Day 5 - Nancy Ondrejka, CG Radiology RN's
Day 6 - Liliya Yatsyuk, Nursing-5E-Pre/Post
Day 7 - Patricia Racculia, Orthopedic Surgery
Day 8 - Karin McMullen, Nursing-Administration
Day 9 - Erin Peters, Office Of The President
Day 10 - Amanda Walsh, Clin Path Immunology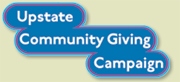 ---
---
Content
Won't you join me?
Jim McKeever supports St. Baldrick's
Since 2005, St. Baldrick's has donated $76 million to pediatric cancer research, and some of that money comes here to Upstate researchers to help our patients and other kids like them.
It's called St. Baldrick's because we raise money by shaving our heads to show solidarity with the kids who lose their hair to chemotherapy. I'm proud to be part of the Syracuse St. Baldrick's event, one of the top fundraisers worldwide for the organization.
Every year, 160,000 children are diagnosed with cancer. Here at Upstate, we treat hundreds of those kids, from right here in Central New York.
Please join me by supporting St. Baldrick's, or another organization of your choice, through Upstate's Community Giving Campaign. Thank you.