2016 Pledge
Pledge Total
As of 1/9/16 1,382 donors have pledged $528,291.
Thank you!
$100 ePledge Winners
Congratulations!
Day 1 - Beth DeRousie, IMT, Hospital Info Systems
Day 2 - Tree Carter, Record Storage
Day 3 - Darcy DiBiase, Marketing & University Communications
Day 4 - Beth Rolland, PM&R - Rehab Therapies
Day 5 - Nancy Ondrejka, CG Radiology RN's
Day 6 - Liliya Yatsyuk, Nursing-5E-Pre/Post
Day 7 - Patricia Racculia, Orthopedic Surgery
Day 8 - Karin McMullen, Nursing-Administration
Day 9 - Erin Peters, Office Of The President
Day 10 - Amanda Walsh, Clin Path Immunology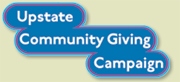 ---
---
Content
Won't you join me?
I'm Dr. John McCabe, campaign co-chair
As the CEO of University Hospital, I see the dedication and life-saving contributions of Upstate employees every day. This drive and devotion to serve our patients and their families extends to Upstate employees—serving scores of health and human service agencies by supporting them, quite generously, through our community giving campaign.
I'm inspired when I listen to our co-workers talk about why they support the community giving campaign—and I hope you are too.
Please join our Upstate family in supporting the agencies that are important to you through the community giving campaign. One never knows when you, yourself may need the services of one of these wonderful agencies. Thank you.