Pledge Update
Pledge Total to Date
$516,889
from 1313 people!
$100 ePledge Winners
Congratulations!
9/28 - Linda Gribble
9/29 - Mark Woodford
9/30 - Linda Slater
10/1 - Michelle Strom
10/2 - Andrea Bleyle
10/5 - Cathy Cadley
10/6 - Chere Ware
10/7 - Wendi Ackerman
10/8 - Angelina Aicher
10/9 - Elizabeth LaDuke
$100 a day Winners
Quinnika Ayers
Nicholas Greco
Kathy Maurillo
Erin Pieklik
Amy Tetrault
CAB Membership Winner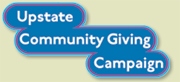 ---
---
---
Jeannette Gilhooley won a $50 gift card to Vince's Gourmet Imports
Antoinett Dufort won a Zoo Family Pack
Robert H. Seabury won a Pastabilities $50.00 Gift Card
Jennifer Kozlowski, Starbucks gift basket valued at $50
Lataveis Bryant, $50 gift card from Vince Gourmet
Content
Won't you join me?
I'm Dr. John McCabe, campaign co-chair
As the CEO of University Hospital, I see the dedication and life-saving contributions of Upstate employees every day. This drive and devotion to serve our patients and their families extends to Upstate employees—serving scores of health and human service agencies by supporting them, quite generously, through our community giving campaign.
I'm inspired when I listen to our co-workers talk about why they support the community giving campaign—and I hope you are too.
Please join our Upstate family in supporting the agencies that are important to you through the community giving campaign. One never knows when you, yourself may need the services of one of these wonderful agencies. Thank you.