Pledge Update
Pledge Total to Date
$516,889
from 1313 people!
$100 ePledge Winners
Congratulations!
9/28 - Linda Gribble
9/29 - Mark Woodford
9/30 - Linda Slater
10/1 - Michelle Strom
10/2 - Andrea Bleyle
10/5 - Cathy Cadley
10/6 - Chere Ware
10/7 - Wendi Ackerman
10/8 - Angelina Aicher
10/9 - Elizabeth LaDuke
$100 a day Winners
Quinnika Ayers
Nicholas Greco
Kathy Maurillo
Erin Pieklik
Amy Tetrault
CAB Membership Winner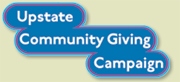 ---
---
---
Jeannette Gilhooley won a $50 gift card to Vince's Gourmet Imports
Antoinett Dufort won a Zoo Family Pack
Robert H. Seabury won a Pastabilities $50.00 Gift Card
Jennifer Kozlowski, Starbucks gift basket valued at $50
Lataveis Bryant, $50 gift card from Vince Gourmet
Content
Won't you join me?
Jennifer Kite supports Sarah House
As a social worker, I see many patients who need an affordable place for their loved ones to stay while they are receiving medical treatment at Upstate. Sarah House is the only adult hospitality house in the area. Sarah House relies solely on donors and volunteers to operate.
Supporting Sarah House as I do allows you to touch the lives of those who depend on Upstate for their outstanding care.