Pledge Update
2014 Campaign Update
1,298 pledges totaling
$527,956.00
as of 3/25/15
Thank You!
$100 ePledge Winners (9/29-10/10)
Congratulations!
9/29 - Kathleen Deters Hayes
9/30 - Meraedith Lange
10/1 - Erin Peters
10/2 - Barbara Riggall
10/3 - Michele Berkery
10/4 - Sally Thompson
10/5 - Philip Ball
10/6 - Mary Usiatynski
10/7 - Antoinette Wood
10/8 - Tammy Blackburn
10/9 - Shelley Horak
10/10 - Tree Carter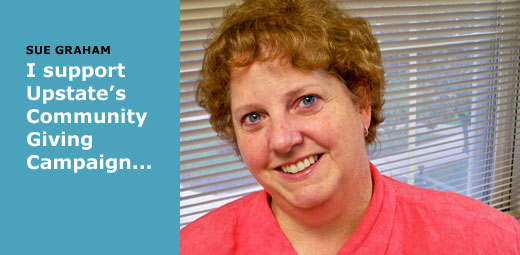 Won't you join me?
Sue Graham supports Literacy Volunteers
Hi, my name is Sue Graham and I support Literacy Volunteers because individuals with poor reading skills are less likely to participate in health screening and preventative medicine and more likely to have poor health outcomes.
I'm concerned about all the patients' whose health suffers because they can't understand the words we use in health care to describe illnesses, procedures, and treatments. For example, being able to read and understand the instructions on a prescription label can mean the difference between life and death.
One of every 5 people in the United States is unable to read and write. In Syracuse, 1 in every 4 people is functionally illiterate.
As Upstate employees, we have many blessings. The Community Giving Campaign gives us the opportunity to help our less fortunate neighbors in their time of need. Please join me in supporting the charity of your choice through the Community Giving Campaign.