Pledge Update
Pledge Total to Date
$516,889
from 1313 people!
$100 ePledge Winners
Congratulations!
9/28 - Linda Gribble
9/29 - Mark Woodford
9/30 - Linda Slater
10/1 - Michelle Strom
10/2 - Andrea Bleyle
10/5 - Cathy Cadley
10/6 - Chere Ware
10/7 - Wendi Ackerman
10/8 - Angelina Aicher
10/9 - Elizabeth LaDuke
$100 a day Winners
Quinnika Ayers
Nicholas Greco
Kathy Maurillo
Erin Pieklik
Amy Tetrault
CAB Membership Winner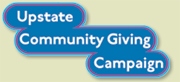 ---
---
---
Jeannette Gilhooley won a $50 gift card to Vince's Gourmet Imports
Antoinett Dufort won a Zoo Family Pack
Robert H. Seabury won a Pastabilities $50.00 Gift Card
Jennifer Kozlowski, Starbucks gift basket valued at $50
Lataveis Bryant, $50 gift card from Vince Gourmet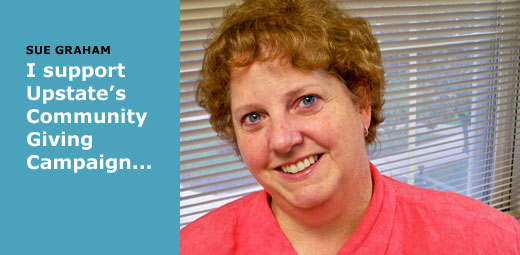 Content
Won't you join me?
Sue Graham supports Literacy Volunteers
Hi, my name is Sue Graham and I support Literacy Volunteers because individuals with poor reading skills are less likely to participate in health screening and preventative medicine and more likely to have poor health outcomes.
I'm concerned about all the patients' whose health suffers because they can't understand the words we use in health care to describe illnesses, procedures, and treatments. For example, being able to read and understand the instructions on a prescription label can mean the difference between life and death.
One of every 5 people in the United States is unable to read and write. In Syracuse, 1 in every 4 people is functionally illiterate.
As Upstate employees, we have many blessings. The Community Giving Campaign gives us the opportunity to help our less fortunate neighbors in their time of need. Please join me in supporting the charity of your choice through the Community Giving Campaign.