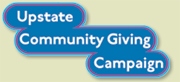 ---
---
Content
Won't you join me?
Hi, this is Dr. Dave Duggan. I'm proud to be part of Upstate.
Most of us work at Upstate because we want to help others. The Community Giving Campaign is another, great way for us to do that. The money we raise is essential to the strength of our community.
Please take a look at all the charities you can choose from. Each one is important. Find one that is close to your heart and donate to it, please. Thank you.