Pledge Update
2014 Campaign Update
1,298 pledges totaling
$527,956.00
as of 3/25/15
Thank You!
$100 ePledge Winners (9/29-10/10)
Congratulations!
9/29 - Kathleen Deters Hayes
9/30 - Meraedith Lange
10/1 - Erin Peters
10/2 - Barbara Riggall
10/3 - Michele Berkery
10/4 - Sally Thompson
10/5 - Philip Ball
10/6 - Mary Usiatynski
10/7 - Antoinette Wood
10/8 - Tammy Blackburn
10/9 - Shelley Horak
10/10 - Tree Carter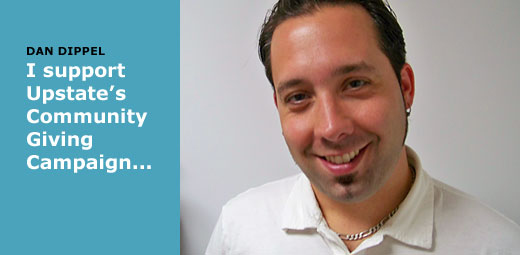 Won't you join me?
I Support environmental conservation and animal rights
I'm Dan Dippel, and I support wildlife, and environmental conservation, and animal rights charities.
It's taken millions of years of evolution to get to where we're at now, and in just the last couple hundred years, we humans have really done a lot to contaminate our world. So I contribute what I can to these organizations to try and reverse that process, even if it's just a little.
Please join me and give what you can to charities you care about. Honestly, you won't even feel it if you donate just a few dollars per paycheck&emdash;it makes a huge difference to these charities&emdash;plus it's good karma.