2016 Pledge
Pledge Total
As of 1/9/16 1,382 donors have pledged $528,291.
Thank you!
$100 ePledge Winners
Congratulations!
Day 1 - Beth DeRousie, IMT, Hospital Info Systems
Day 2 - Tree Carter, Record Storage
Day 3 - Darcy DiBiase, Marketing & University Communications
Day 4 - Beth Rolland, PM&R - Rehab Therapies
Day 5 - Nancy Ondrejka, CG Radiology RN's
Day 6 - Liliya Yatsyuk, Nursing-5E-Pre/Post
Day 7 - Patricia Racculia, Orthopedic Surgery
Day 8 - Karin McMullen, Nursing-Administration
Day 9 - Erin Peters, Office Of The President
Day 10 - Amanda Walsh, Clin Path Immunology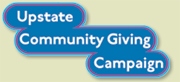 ---
---
Content
Won't you join me?
My name is Cheryl Agler and I'm happy to support the Upstate Cancer Center. I have been an employee of Upstate for about six years and I think it's important as an employee to give back to the institution.
I had an experience in my own personal life with my father-in-law being diagnosed with pancreatic cancer about a year-and-a-half ago. I was fortunate enough to get him into Upstate to meet with doctors here who reviewed his case and gave him a valuable second opinion. They provided him with information he could understand, and talked with him in ways he could relate to. It was a very good experience at a very difficult time. So, I hope you would be will to help me support the Cancer Center.