Pledge Update
Pledge Total to Date
$516,889
from 1313 people!
$100 ePledge Winners
Congratulations!
9/28 - Linda Gribble
9/29 - Mark Woodford
9/30 - Linda Slater
10/1 - Michelle Strom
10/2 - Andrea Bleyle
10/5 - Cathy Cadley
10/6 - Chere Ware
10/7 - Wendi Ackerman
10/8 - Angelina Aicher
10/9 - Elizabeth LaDuke
$100 a day Winners
Quinnika Ayers
Nicholas Greco
Kathy Maurillo
Erin Pieklik
Amy Tetrault
CAB Membership Winner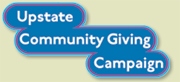 ---
---
---
Jeannette Gilhooley won a $50 gift card to Vince's Gourmet Imports
Antoinett Dufort won a Zoo Family Pack
Robert H. Seabury won a Pastabilities $50.00 Gift Card
Jennifer Kozlowski, Starbucks gift basket valued at $50
Lataveis Bryant, $50 gift card from Vince Gourmet
Content
Won't you join me?
I Support AIDS Community Resources
Hi, I'm Troy Bisesi and I support AIDS Community Resources. I have a family member who suffers from AIDS. Community Resources has helped him get medication and find safe, affordable housing. It is a judgment-free organization. I've seen the positive effect that AIDs Community Resources has had on my family and on many others. That's why I donate to the organization through Upstate's Community Giving Campaign. Please join me and give generously. You'll be supporting the agencies that are most important to you and your family.