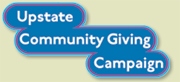 ---
---
Content
Three Great Incentive Programs!
1. Two Weeks - $100 daily winners!
Two Week E-Pledge Incentives - Daily $100 winners from Oct 3. - Oct 14.
Daily $100 winners will be drawn thru Oct. 9.  ePledge early to be included in daily drawings!
Winners announced in Upstate Announcements, campus TVs, www.upstate.edu/cgc
2. More Upstate Incentives
Upstate Incentive Program
Turn in your paper pledge or ePledge by November 20 to be eligible for more cash prizes!
Paper pledges will be mailed on Oct. 26 — to employees who did not already ePledge.
$100 (3 drawings) — for anyone who donates
$100 — for new donors
$100 — for returning donors
One-year CAB membership
Winners announced in Upstate Announcements, campus TV, www.upstate.edu/cgc
Cash prizes donated by PEF, UUP and Upstate Campus Administration. CAB membership donated by the Campus Activities Governing Board and Office of Campus Activities
3. United Way Incentives
To qualify for the Step-up Challenge:


Start giving, or increase your gift, by $1 per week ($52 per year) and you'll be entered to win your choice of 4 grand prizes as well as daily and special weekly prizes

awarded throughout the campaign. Step Up Challenge official rules

DAILY PRIZES

GRAND PRIZES:
1) Dream Card
$3,000 debit card to use as you wish. Donated by M&T Bank.
2) Fill Your Fridge
$3,000 gift card for food or merchandise at any store location. Donated by Wegmans.
3) Home Makeover
$3,000 in home furnishings for any room in your home. Donated by Raymour & Flanigan Furniture.
4) Dream Vacation
Add $3,000 to your vacation budget. Donated by Carrier.
Winners announced weekly on facebook, twitter and at www.unitedway-cny.org
Return your pledge early for more chances to win!
ALL PRIZES ARE DONATED
---