You may pledge your support either of 2 ways—EPledge online through Self Serve or pledge with a traditional paper form. Follow the instructions below to help you pledge your support.
HOW TO ePLEDGE: ePledge is on Self-Serve
On October 1, you will receive an email from Self-Serve with a link to ePledge. 
Click ePledge Button on Self Serve
Step 1:Select payment option – choose payroll deduction or credit card (if you choose credit card a United Way representative to contact you to gather your information).
Step 2: Enter pledge amount – enter the total amount you wish to pledge. Your weekly amount will automatically populate or you can enter your weekly deduction and the total will automatically populate. *Note: Depending on your pledge amount you will automatically qualify for the Step Up Challenge
Step 3-5: Answer the questions about your recognition as a donor or if you would like to combine your gift with a spouse or if you'd like to become part of Young Leaders or Women United. If you select "yes" on question 5 and wish to remain anonymous, your name will not appear on the mid-campaign or final campaign report. Then hit "NEXT"



Steps 6: Select your designation(s). Once all your agencies are selected and amounts are designated, hit "NEXT". You can donate FEE FREE to the United Way of CNY to support their 33 agencies and 87 local programs targeting health and human services needs. NEW THIS YEAR: Minimum donation of $1 per pay period per agency ($26/year).
Step 7: Select your designation(s)





Step 8: Review your pledge information. If you are satisfied with your pledge click "submit pledge". If you need to modify, hit "back".


Once you submit your pledge you will receive a confirmation e-mail.
Pledge online between Oct. 1 and Oct. 12 and be included in $100-a-day drawings!
Note: paper pledge forms will be mailed the week of Oct. 23 to those who have not ePledged by Oct. 12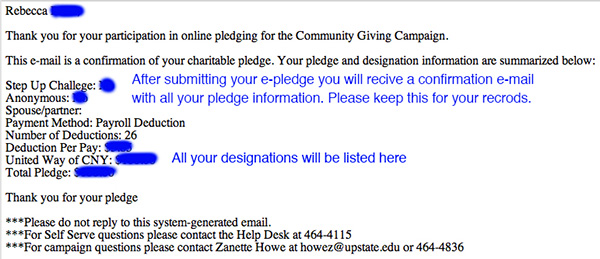 Need Help with ePledge? Call the Help Desk at x4115
Paper Pledge
Use the pledge form mailed to you, or download a paper pledge form

Thank you for your support!