Pledge Update
2012 Final Figures
1,719 pledges totaling
$652,565
Thank You!
"The E-Pledge site is very user-friendly. I was able to find the agency I wanted to support by typing the name in the search box. I received an e-mail confirmation almost instantly."
How to Contribute
There are 2 ways to pledge!
1. Pledge on-line with e-Pledge
by payroll deduction or CREDIT CARD!
Watch for an email sent directly to your Upstate email address on 9/24 with your unique username and password. Contact Zanette Howe or Becky Cerio if you need assistance.
2. Or use the paper pledge form
You will receive materials from your Department Representative - including:

pledge form with partial list of agencies/funds on the back of the form
Step-Up Challenge flyer
Upstate incentives listed on the pledge envelope
return envelope

Complete the pledge form and return to your department representative in enclosed return envelope
See how easy it is to qualify for fabulous prizes!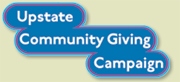 ---
Need Pledge Forms?
Call 464-4845 or visit:
Jacobsen Hall, Rm. 100
Weiskotten Hall, Rm. 1158
University Hospital, Rm. 1401
Silverman Hall, Rm. 1104
Helpful Links