2016 Pledge
Pledge Total
As of 1/9/16 1,382 donors have pledged $528,291.
Thank you!
$100 ePledge Winners
Congratulations!
Day 1 - Beth DeRousie, IMT, Hospital Info Systems
Day 2 - Tree Carter, Record Storage
Day 3 - Darcy DiBiase, Marketing & University Communications
Day 4 - Beth Rolland, PM&R - Rehab Therapies
Day 5 - Nancy Ondrejka, CG Radiology RN's
Day 6 - Liliya Yatsyuk, Nursing-5E-Pre/Post
Day 7 - Patricia Racculia, Orthopedic Surgery
Day 8 - Karin McMullen, Nursing-Administration
Day 9 - Erin Peters, Office Of The President
Day 10 - Amanda Walsh, Clin Path Immunology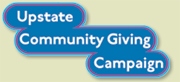 ---
---
Content
Pledge Today!
ePledge between Oct. 3 and Oct. 14 - $100 winner-a-day will be drawn!
STEP-BY-STEP ePLEDGE INSTRUCTIONS
October 3, you will receive an email from Self-Serve with a link to ePledge. https://selfserve.upstate.edu/ais/applications/marketing/sefa/epledge
Click e-Pledge Button on Self Serve
Step 1: Enter Pledge Amount – enter the total amount you wish to pledge.
Step 2: Click YES if you wish to designate your pledge to specific organizations.
Step 3: Select Payment Option – Choose Payroll Deduction or Credit Card, hit next.
Step 4: Enter Designations – click on the Agency Search button to contribute to local and statewide agencies*, including Upstate Foundation/Alumni funds.

You may choose as many designations as you wish – simply search for the agency name or key word, click search.
A list of choices may come up – put the dollar amount of your pledge that you wish to designate next to the agency of your choice, and click ADD.  You will be back at the search screen – you may continue to add designations and when you are done, click NEXT.
NOTE: *A partial list on back of this flyer, complete list at www.upstate.edu/cgc - select Community Agencies or Foundation/Alumni funds.

Step 4: Verify Information – check boxes that may apply to your pledge, and enter or verify your address so the agencies may acknowledge your gifts, click NEXT.
You will be asked to review your pledge and click CONFIRM – you will receive an email confirmation of your pledge.
See how easy it is to qualify for fabulous prizes!