Pledge Update
2013 Final Campaign Total
1,414 pledges totaling $586,649!
That's 18% toward our goal of 25% participation
as of 2/4/14
Spirit of Caring Award
United Way honors Upstate with 'Spirit of Caring' award
Upstate received the United Way of Central New York's Spirit of Caring Award for Campaign Excellence in appreciation for the academic medical center's strong corporate and individual philanthropy.
Upstate employees pledged $650,043, helping United Way to raise $7.47 million. Ninety-five food pantries, shelters and other human service organizations in Central New York count on funding from United Way.
"We're elated by this recognition from the United Way," Upstate President David R. Smith MD said of the award. "It reflects the spirit of caring that is embraced by our employees and is a hallmark of Upstate's commitment to the community."
Helping make Upstate's campaign a success:
the addition of contributions from employees at Upstate University Hospital at Community Campus.
the efforts of more than 200 campaign department representatives and campaign committee members.
an online method to donate.
a comprehensive incentive program.
inspiring testimonials from employees about why they support the campaign.
The campaign was led by Upstate University Hospital Chief Executive Officer John McCabe MD and Upstate Senior Vice President Wanda Thompson PhD. Day-to-day campaign responsibilities were guided by Zanette Howe, Rebecca Cerio, Dan Hurley, Margaret Bourke, Lisa Bane and Kristin Schofield.
The last time Upstate won the Spirit of Caring award was 1999. Last year, Upstate received the Leadership Development Award; in 2010, it received the Volunteer Service Award. Howe, who serves as the campaign director for the university's community giving campaign, received the 2006 Campaign Volunteer of the Year Award.
Over the last five years, Upstate employees have contributed more than $2.6 million to United Way.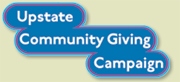 ---
Need Pledge Forms?
Call 464-4836 or download a pledge form.

Helpful Links