Pledge Update
2012 Final Figures
1,719 pledges totaling
$652,565
Thank You!
2012 Upstate Community Giving Campaign
A Message from the Community Giving Campaign Co-Chairs:
We are pleased to report that Upstate employees contributed $652,565 to the 2012 Community Giving Campaign. Thanks to all of you who chose to make a difference in the lives of others with your contribution.
We could not have achieved these results without the help of our 180 department representatives, our leadership giving campaign, and the campaign committee that meets throughout the year. Upstate Medical students also participated in this year's campaign and raised $727.
We would also like to thank all of you who helped deliver the message of the exciting new Upstate Cancer Center to employees. Thirty-eight percent of employees who contributed to the Community Giving Campaign designated all or part of their pledge to the Upstate Cancer Center Fund. Our Upstate family's spirit of caring and generosity will truly help Give Hope a New Home.
On behalf of everyone involved with the campaign, thank you for your support. We look forward to your continued generosity toward the Community Giving Campaign in future years. Your dedication to the community and to the Upstate Medical University Community Giving Campaign is greatly appreciated.
Sincerely,
Community Giving Campaign Co-Chairs

David Duggan, MD
Interim Dean, College of Medicine
Assoc. Vice President & Vice Dean for Clinical Affairs
Ken Redmore
Associate Administrator, Facility & Support Services
Community Campus
Wanda Thompson, PhD
Senior Vice President for Operations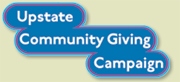 ---
Need Pledge Forms?
Call 464-4845 or visit:
Jacobsen Hall, Rm. 100
Weiskotten Hall, Rm. 1158
University Hospital, Rm. 1401
Silverman Hall, Rm. 1104
Helpful Links