Pledge Update
2013 Final Campaign Total
1,414 pledges totaling $586,649!
That's 18% toward our goal of 25% participation
as of 2/4/14
2013 Upstate Community Giving Campaign
A Message from the Community Giving Campaign Co-Chairs:
We are pleased to announce the kickoff of Upstate's 2013 Community Giving Campaign which includes more than 600 agencies in our community and beyond.
Last year, 1,719 (21%) Upstate employees raised an impressive $652,565. The generosity of Upstate's employees has made our campaign one of the most successful in the SUNY system and in Central New York. We hope that you will join us in participating in this important initiative and help us reach our goal to increase participation to 25%.
On September 23, you will receive an e-mail from the United Way with a link to ePledge. This is an easy way to make a donation and help Upstate's effort to "think green" and "save a buck" by ePledging. We hope you will take advantage of a special two-week epledge incentive promotion and pledge online September 23 thru October 9 and win a chance for two tickets to the Upstate Gala ($450 value) or $500 cash. If you do not have computer access at work or home, please call 464-4845 or (cerior@upstate.edu).
Your participation, at any level, is essential to our success and the well being of thousands in our community.
Once again, Zanette Howe is the campaign director and Dan Hurley will handle leadership gifts ($1,000 and up) through the Hamilton White campaign. If you have any questions, please contact Zanette (464-4263 or howez@upstate.edu) or Dan (464-4832 or hurleyd@upstate.edu).
We hope you will find it possible to support Upstate's Community Giving Campaign. Together, our gifts will help build a stronger future for our neighbors, families, and friends.
Sincerely,

Community Giving Campaign Co-Chairs

David Duggan, MD
Senior Vice President and Dean, College of Medicine
Ken Redmore
Associate Administrator, Facility & Support Services
Community Campus
Leslie Kohman, MD
Medical Director, Upstate Cancer Center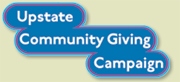 ---
Need Pledge Forms?
Call 464-4836 or download a pledge form.

Helpful Links