Pledge Update
Pledge Total to Date
$516,889
from 1313 people!
$100 ePledge Winners
Congratulations!
9/28 - Linda Gribble
9/29 - Mark Woodford
9/30 - Linda Slater
10/1 - Michelle Strom
10/2 - Andrea Bleyle
10/5 - Cathy Cadley
10/6 - Chere Ware
10/7 - Wendi Ackerman
10/8 - Angelina Aicher
10/9 - Elizabeth LaDuke
$100 a day Winners
Quinnika Ayers
Nicholas Greco
Kathy Maurillo
Erin Pieklik
Amy Tetrault
CAB Membership Winner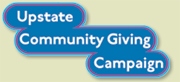 ---
---
---
Jeannette Gilhooley won a $50 gift card to Vince's Gourmet Imports
Antoinett Dufort won a Zoo Family Pack
Robert H. Seabury won a Pastabilities $50.00 Gift Card
Jennifer Kozlowski, Starbucks gift basket valued at $50
Lataveis Bryant, $50 gift card from Vince Gourmet
Content
Upstate Community Giving Campaign
Please watch for a special Community Giving Campaign ePledge opportunity September 28 –October 9 and win a chance for $100 a day! 
A message from the Community Giving Campaign Co-Chairs:
We are pleased to announce Upstate's 2015 Community Giving Campaign. More than 600 agencies benefit from your support.
The generosity of Upstate's employees has made our campaign one of the most successful in the SUNY system and in Central New York. Last year, Upstate employees raised $527,956.00. We hope that you will join us in participating in this important initiative and help us reach our goal to increase employee participation to 20%. 
On September 28, you will receive an email from the United Way with a link to ePledge. This is an easy way to donate to the campaign and take advantage of the two-week incentive promotion. You may be one of the $100 daily winners!  If you do not have computer access at work or home, please call 464-4845 or email Kate Burke at burkekat@upstate.edu to be eligible for our ePledge promotion. 
Once again Zanette Howe is the campaign director and Dan Hurley will handle leadership gifts ($1,000 and up) through the Hamilton White campaign. If you have any questions, please contact Zanette at 464-4263 or howez@upstate.edu or Dan at 464-4832 or hurleyd@upstate.edu. 
We hope you will find it possible to support Upstate's Community Giving Campaign.  Your participation, at any level is essential to our success and the well-being of the thousands in our community and beyond. Together, our gifts will help build a stronger future for our neighbors, families, and friends.
Sincerely,
Community Giving Campaign Co-Chairs,
Nancy Daoust, MS FACHE
Chief Administrative Officer, Community Campus
Jeffrey Bogart, MD
Professor and Chair, Department of Radiation Oncology
Nancy Page, MS, RN
Chief Nursing Officer,
Upstate University Hospital