EVENTS CALENDAR
No events, please check back later.
Content
Epilepsy Monitoring Unit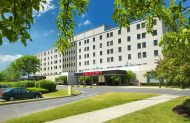 Epilepsy Monitoring Unit
Upstate University Hospital - Community Campus
Map & directions
3rd floor
4900 Broad Road, Syracuse, NY 13215
Phone:
315 492-5122
Fax:
315 492-5306
---
Robert L Beach, MD, PhD, FAAN, FACNS
315 464-4243
Diseases/Specialties/Treatments:
Neurology; Clinical Neurophysiology; Epilepsy; Epilepsy, Severe; Seizures; Comprehensive Epilepsy Program;
more
Education:
University of Kansas School of Medicine
Research Interests:
Epilepsy; Seizures; Epilepsy Surgery; Antiepileptic therapies (medical, surgical and experimental); Functional imaging; Zone state performance; Neuroprotection; Neuromodulation; Neuronal transplantation; Brain stimulation
Clinical Interests:
I direct our Comprehensive Epilepsy Program, the EEG and EMU Labs and the EEG/Epilepsy Fellowship. My clinical interests include epilepsy, seizures, antiepileptic therapies (medical, surgical and experimental); functional neuromaging; differential diagnosis of spells.
Associations/Memberships:
American Academy of Neurology (AAN), Fellow; Epilepsy Foundation, Advisor; American Clinical Neurophysiology Society, Fellow; American Epilepsy Society (AES), Fellow; American Board of Clinical Neurophysiology
---
Xiangping Zhou, MD/PhD
315 464-8668
Diseases/Specialties/Treatments:
Clinical Neurophysiology; Neurology; Epileptology; Epilepsy; Seizures; Comprehensive Epilepsy Program;
more
Education:
Sun Yat-Sen University of Medical Sciences
Associations/Memberships:
American Academy of Neurology (AAN); American Epilepsy Society (AES); American Clinical Neurophysiology Society
---