ONE STUDENT'S STORY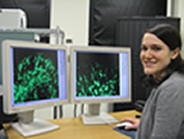 Anna Nichols
Class of 2012

'Striking a Balance' in the MD/PhD Program
With two years of medical school and a doctorate from Upstate already on her resume, MD/PhD student Anna Nichols (pictured above) has transitioned to the final two clinical years of the program. Nichols will earn a dual MD/PhD degree, and start on a career that she hopes will "strike a balance" between research and clinical practice. Read more...
Content
Alpha Omega Alpha
Alpha Omega Alpha Medical Student Honor Society
New York Gamma Chapter, Upstate Medical University
Alpha Omega Alpha (AO) is the national honor society for medical students. The three Greek letters AOA are initials of the essential words in the Greek version of the motto Be worthy to serve the suffering. The mission statement adopted in 2008 is:
Alpha Omega Alpha dedicated to the belief that in the profession of medicine we will improve care for all by recognizing high educational achievement honoring gifted teaching encouraging the development of leaders in academia and the community supporting the ideals of humanism promoting service to others*
The values of the organization include honesty, honorable conduct, morality, virtue, unselfishness, ethical ideals, dedication to serving others, and leadership. Members have a compelling drive to do well and to advance the medical profession and exemplify the highest standards of professionalism. *
Representative activities of the Upstate Gamma Chapter in recent years include:
Establishment and support of an annual Student Research Day
Substantial academic support for undergraduates, including tutoring, review sessions prior to exams in the first two years, USMLE prep
Sponsorship of an annual AOA Visiting Professor, with support of the national office
Establishment and support of a student Clerkship Liaison program as a resource to clerkship students and clerkship directors
Leadership training for members.
The chapter is actively engaged in ongoing leadership, scholarship, and service of its members, and membership criteria are designed to support this active engagement.
Criteria for Selection to the Upstate Chapter of AOA
Criteria for membership established by the national organization include high academic standing, and leadership among their peers, professionalism and a firm sense of ethics, promise of future success in medicine, and a commitment to service in the school and community. By adherence to these criteria .the highest ranked students by grade point average [are not always] elected to the society. A requirement for membership in the Upstate Gamma Chapter is full participation throughout the provisional period after initial identification until graduation, including substantial participation in tutoring undergraduate medical students.
The process of electing students to the Upstate Gamma Chapter of AOA is based on national guidelines and is further refined by chapter members. For the 2012/13 calendar year the following process will be followed:
Eligibility is determined by GPA in required coursework. Students in the top 25% of the class by cumulative GPA and without any concerns regarding professional behavior are invited to apply for membership late in the third year or early in the fourth year of medical school. Up to 1/6 of the class may be elected according to national guidelines.
Election is determined by a process that considers academic accomplishments and also contributions to the community, including leadership, scholarship, and service. Eligible candidates are asked to apply for membership. The application process includes release of the transcript with narratives and USMLE Step 1 scores, and completion of an application form requesting information about leadership, scholarship, and service. Applicants are also asked to submit an essay on a topic or in response to a question identified by the chapter members.
The rubric for ranking applicants weights academic and non-academic components as outlined below. All submitted information is blinded during the rating process. Weighting is determined according to the following outline:

25% clerkship grades
25% USMLE Step 1 score
50% leadership, scholarship (research, etc.) and service. Applications are blinded and chapter members score each component, controlling for interobserver variability.

Up to half of membership may be elected in the junior year. This usually occurs in March or April. The remainder is elected in August or September, early in the fourth year.
For questions please contact Patricia Gooden, the Upstate Gamma Chapter staff administrator, or chapter councilor Dr. Lynn Cleary, at 464-5387.