Cell and Developmental Biology Research
lRESEARCH PROFILE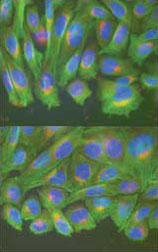 These cells were scratch-wounded followed by fixation 12-hours post-wounding. Tubulin (Green) and alpha-mannosidase II (Red) were labeled to note cell polarization and Golgi orientation. Cells expressing paxillin lacking LD4 are unable to reorient the Golgi towards the wound edge. From the lab of Christopher Turner, PhD.
Research in the Department of Cell and Developmental Biology explores the molecular and biochemical mechanisms of cellular function and development. Research in the Department of Cell and Developmental Biology is in several exciting areas:
Assembly and Dynamics of Myofibrils
Genetics and cell biology of organ morphogenesis
Genetics of ciliary motility
Mammalian neural development and regeneration
Mechanisms of actin assembly during endocytosis
Role of class I myosins in kidney functions
Role of cell adhesion in regulating the cytoskeleton and cell motility
Role of Formins in animals
Other projects include: studies of embryonic blood vessel development and of signaling cascades that control cellular proliferation and differentiation.
Labs
Amack Lab
Led by Jeffrey Amack, PhD. We study genes and mechanisms that control organ formation during embryo development. Amacklab.org

Blystone Lab
Led by Scott Blystone, PhD. Lab studies Actin Cytoskeletal Dynamics in the leukocyte inflammatory phenotype.

Krendel Lab
Led by Mira Krendel, PhD. Our lab studies physiological functions of myosin motors that move various cargoes along actin filaments. Learn more...

Mitchell Lab
Led by David Mitchell, PhD. Research interests: Regulation of ciliary dynein activity and assembly, and the role of the central pair complex in ciliary motility regulation.
Osterhout Lab
Led by Donna Osterhout, PhD. Research interests: Biology of oligodendroglia and myelin formation during development, remyelination and repair in spinal cord injury and MS

Poole Lab
Led by Thomas Poole, PhD. Research interests: Vascular development and the alignment of growing nerves and blood vessels in quail and zebrafish embryos.

Pruyne Lab
Led by David Pruyne, PhD. Research interests: Biochemistry and cell biology of formins as actin cytoskeleton organizers, using Caenorhabditis elegans as a model system.


Sanger Lab
Led by Jean Sanger, PhD and Joseph Sanger, PhD. The complex regulation of eukaryotic proteins in response to cellular events such as division, development and bacterial infection involves dramatic reorganization of the cytoskeleton. Understanding the mechanisms and the numerous proteins involved in these architectectural rearranglements is the primary focus of our research. Learn more...

Sirotkin Lab
Led by Vladimir Sirotkin, PhD. Research interests: Mechanisms of the actin cytoskeleton assembly and role of myosin-1 during endocytosis in fission yeast.

Turner Lab
Led by Christopher Turner, PhD. Research interests: We are interested in understanding the molecular mechanisms and signaling pathways that regulate cell adhesion and cell migration associated with cancer cell metastasis, development and wound repair. Learn more...