Services
Upstate Heart & Vascular Center is a comprehensive cardiovascular care facility. We offer a wide range of diagnostic and treatment procedures including emergency, inpatient/outpatient services, surgical options and rehabilitation services.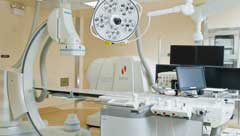 The Stereotaxis Magnetic Navigation System, now available at the Upstate Heart & Vascular Center, assists in the diagnosis and treatment of both common and complex cardiac arrhythmias. Read more...
Diagnostic Procedures
24 hour Electrocardiogram (EKG/ECG) Holter Monitoring
Computer Tomography (CT) Cardiac Angiography
Echocardiogram
Electrocardiogram
Positron Emission Tomography (PET)
Thallium Stress Test
Treatments
Angina
Carotid Artery Stenting
Catheter Ablation for Atrial Fibrillation (including Stereotaxis magnetic navigation)
Coronary Angioplasty
Coronary Artery Bypass (CABG)
Coronary and Vascular Stenting
Heart Valve Replacement and Repair
Cardioverter Defibrillator Implants
Pacemakers
Vascular Services
Abdominal Aortic Aneurysm
Carotid Artery Occlusive Disease
Chronic Venous Insufficiency
Diabetic Foot Care
Endovascular Abdominal Aortic Aneurysm
Peripheral Arterial Occlusive Disease
Varicose Veins
Heart & Vascular News
Read Latest Issue...