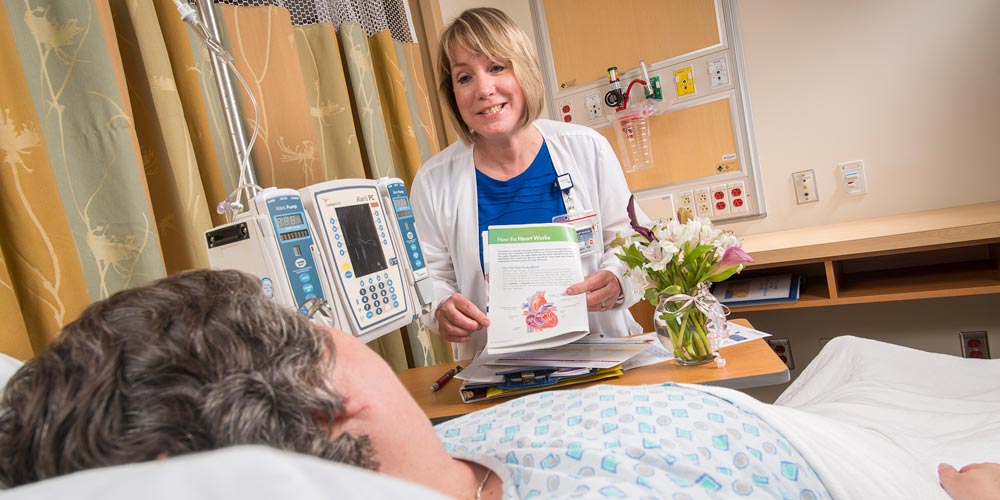 Heart Failure Program
Upstate Health Care Center
5th Fl.,
90 Presidential Plaza
Syracuse, NY 13202
Map & directions
Phone:
315 464-9335
Fax:
315 464-9338
Congestive Heart Failure (CHF) can be a very debilitating condition leaving many patients unable to perform simple daily activities. In many instances, CHF cannot be reversed but it can be successfully managed. If you have CHF you can still lead a full and satisfying life with proper treatment and the right lifestyle choices.
Heart Failure Care at Upstate Medical University Hospital means you will receive one on one education for you or your family member provided by a Certified Heart Failure Nurse. We provide you with the educational materials and tools to help you learn more about your condition and help you better manage your heart failure at home. Our goal is to enhance your quality of life, reduce the need for emergency room visits and attempt to minimize hospital stays. The heart failure nurses work closely with the case managers, nursing staff and medical staff to coordinate the care of heart failure patients while they are in the hospital and to assist with a smooth transition to home or the next level of care.
Our program offers a group of specialized cardiologists who can diagnose and manage your heart condition. We offer echocardiograms, stress testing, cardiac MRI and Cardiac Catheterization. Treatment options vary for CHF depending on the cause, severity and your overall health. Additional treatment options available for treating CHF include Implantable Cardioverter Defibrillator (ICD), and a biventricular pacemaker (also known as cardiac resynchronization therapy). These therapies may improve symptoms and in some cases enhance potential survival.
The Heart Failure Program has received the Get With The Guidelines-Heart Failure Gold Plus Achievement Award from the American Heart Association for three consecutive years. This award affirms the hospital follows and has maintained a standard of care for heart failure patients.