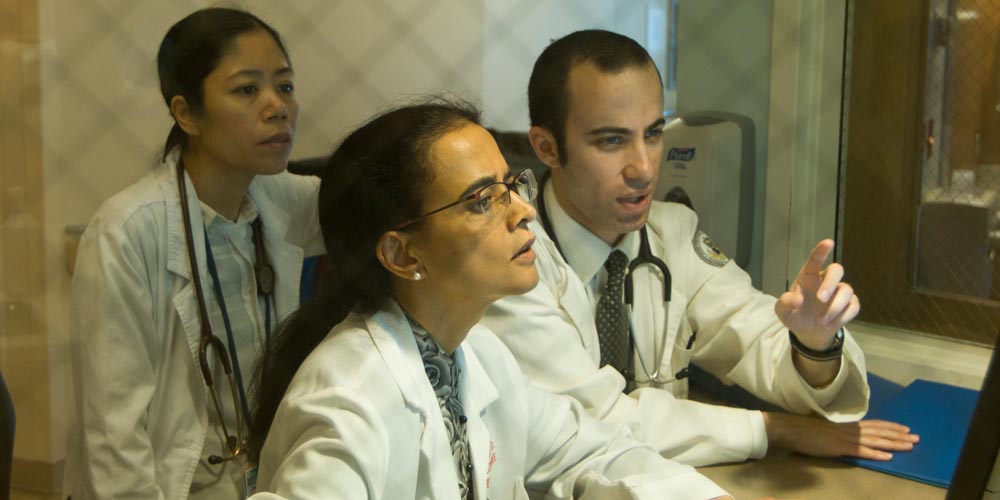 Electrophysiology (EP) Lab
Electrophysiology and Pacing
Upstate University Hospital - Downtown Campus
Rm. 6825, EP Lab,
750 East Adams Street
Syracuse, NY 13210
Map & directions
Phone:
315 464-5973
Fax:
315 464-5990
Name:
Dr. Luna Bhatta, Director315
The EP Lab provides a complete range of services for patients who are affected by heart arrhythmia's or heart rhythm disturbances. These services include diagnostic electrophysiology studies, tilt table tests, and cardioversions.
The EP lab can provide ablations for arrythmia's including: ablations-SVT (supraventricular tachycardia), atrial fibrilation, and VT (ventricular tachycardia) as well as placement of pacemaker and ICD implants.
The Upstate Heart and Vascular Center employs the most modern and technologically advanced tools to provide the best diagnostics and treatments. This includes the Stereotaxis Magnetic Navigation System which assists in the diagnosis and treatment of both common and complex cardiac arrhythmias. Through precise catheter positioning, often in hard to reach regions of the heart, the system uses computerized magnetic navigation to guide the catheter to the region of the heart requiring treatment. In a treatment procedure called ablation, the vulnerable circuit of arrhythmia is disabled by a burst of radiofrequency energy that is aimed at small areas of heart tissue that give rise to abnormal electrical signals. Normal rhythm pattern is restored.
The traditional procedure uses relatively inflexible catheters which are manually guided into the blood vessels and then to the heart muscle. Of paramount concern is the potential for damaging heart structures which can happen when the procedure encounters a complex heart chamber anatomy. The computer-guided magnetic navigation system, on the other hand, features a catheter that is softer and far more flexible which reduces the potential for distorting or damaging the heart wall. It also uses computer mapping and magnets which guide the catheter to its target and enable it to safely traverse the vessels and the heart muscle.
Key Benefits
Improved safety and outcomes for patients with common and complex arrhythmias
Shorter procedure time with less radiation exposure
Increased likelihood that patients with highly complex arrhythmias can be successfully treated