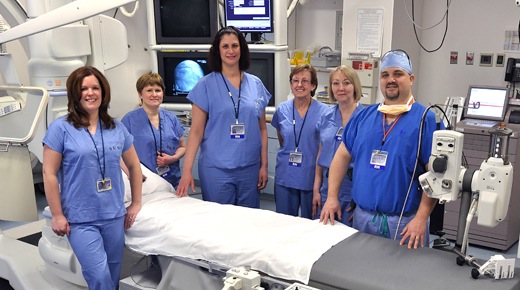 Cardiac Catheterization Laboratory
Contact:
Dr. Hani Kozman
,
Director
Location:
750 E. Adams St, Syracuse, NY 13210
Phone:
315 464-4262
Fax:
315 464-9577
Our Cath Lab is dedicated to being an integral part of University Hospital's cardiovascular services as we work closely with our inpatient units and emergency department to provide the best possible cardiac care for all of our patients.
Opening in late fall of 2010 will be the state of the art Upstate Heart and Vascular Institute which will open three new labs for EP services, Cardiac Catheterization services and Vascular services. The adjacent patient care area will hold seven beds to care for these patients in the preparatory and recovery phases for these procedures.
Invasive cardiology techniques may serve as an alternative to open heart surgery for patients with coronary artery or valve diseases. They may also provide for the definitive diagnosis of these diseases. We have an impressive history of achieving long-term success with these procedures and maintain one of the oldest and busiest interventional cardiology services in the city. In addition, we continually upgraded our services and technology to offer the most advanced procedures.
Our staff consists of a world-class team of cardiologists, cardiac nurses and technicians who work together to deliver the best cardiac care, but not at the expense of caring.
The laboratory is staffed 24 hours a day to handle emergency and emergent procedures for local patients as well as for those transported from regional community hospitals.
Cardiac Catheterization
Our experience and expertise in this, one of the most sophisticated of cardiac tests, is second to none. Our interventional cardiologists employ cardiac catheterization to diagnose disorders of the arteries, heart valves and heart muscle.
Treatment Methods
Proven extremely beneficial in eliminating blockages in the coronary arteries, interventional cardiology treatment procedures re-open diseased arteries that supply the heart with blood. They may be performed at the same time as the diagnostic cardiac catheterization.
Treatments include:
Transradial catheterization
Balloon angioplasty
Atherectomy
Stent placement
Intravascular ultrasound
Drug-Eluting Stents
Drug-eluting stents have reduced the rate of restenosis—the recurrence of blocked arteries—to five or six percent, making this procedure a major advance in treatment, especially for women who, because of their smaller arteries, have traditionally had problems with restenosis.
Transradial Catheterization
Our interventional cardiologists excel at this technique, which accesses the coronary circulation through the arteries in the wrist. It generates less bleeding and discomfort and fewer complications than traditional approaches to catheterization.