Numann Center for Breast, Endocrine & Plastic Surgery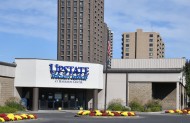 Numann Center for Breast, Endocrine & Plastic Surgery
Upstate Specialty Services at Harrison Center
Map & directions
Suite D
550 Harrison Street, Syracuse, NY 13202
Phone:
315 464-8224
Fax:
315 464-2171
---
---
The Numann Center for Breast, Endocrine and Plastic Surgery is a proud recipient of the 2017 Patient Experience Champion trophy. This honor indicated that they achieved the highest Medical Practice Press Ganey patient experience score for 2017 with a 95.0
---
Our office offers patients on-site imaging, quick appointment schedules and access to unique programs.
The center provides individualized care to patients requiring intervention related to a benign or malignant diagnosis of the breast, thyroid and parathyroid along with non cosmetic plastic surgery needs.
Our Services

Consultation
Minor office procedures
Pre and post surgical care
Non cosmetic plastic surgery care
Lactation assessment and counseling
Multi disciplinary care
- Breast Cancer Program
- Thyroid Cancer Program
Preventative, screening and surveillance care
- Genetic counseling and testing
- High Risk Program
Radiology Imaging Services conveniently located within the same suite
Intraoperative Radiation Therapy
Upstate Cancer Center is now offering intraoperative radiation therapy (IORT) for select patients with early-stage breast cancer. Breast intraoperative radiation therapy (IORT) provides clinicians with the option to perform radiation therapy in the operating room at the time of surgery.