618 Irving Ave.
Syracuse, NY 13210
(315) 464-5404
Margaret M. Braungart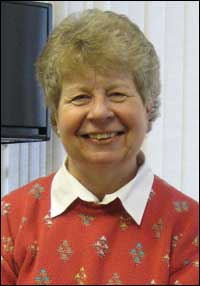 Margaret M. Braungart, Ph.D., is Professor Emerita of the Center for Bioethics and Humanities. She holds a doctorate in Psychology from Syracuse University, with a M.A. in Human Development from the University of Maryland. Previously, Dr. Braungart chaired the Arts and Sciences Department at the College of Health Professions.
Her research interests include medicine and behavior over the life-course, the moral development of medical trainees, and the role of empathy in medicine and medical education. Her research on life course and geriatrics is internationally known, and a number of her articles have been translated and published in other countries.
Selected Publications
These links will take you to sites outside of the SUNY Upstate website. To return to SUNY Upstate, you will need to use your back button.
Braungart MM, Braungart RG, Gramet, P. Applying learning theories to healthcare practice. In: Bastabel S, Gramet P, Jacobs K, Sopczyk DL, editor. Health Professional as Educator. Sudbury, MA: Jones & Bartlett Learning; 2011. Chapter 3.
Braungart MM, Braungart RG. Moral development. In: Sherrod L, Flanagan C, Kassimir R, editors. Youth Activism: An International Encyclopedia. Westport, CT: Greenwood Press; 2006. 401-12.
Braungart RG, Braungart MM. Youth culture. Youth movement. In: Outhwaite W, editor. The Blackwell Dictionary of Modern Social Thought. Malden, MA: Blackwell Publishers; 2003. 747-50.
Braungart MM, Braungart RG. Applying learning theories to health-care practice. In: Bastable, S, editor. Nurse as Educator. 3rd ed. Boston: Jones & Bartlett; 2008. Chapter 3.
Braungart RG, Braungart MM. Historical generations and citizenship: two hundred years of youth movements. Research in Political Sociology. 1993;6:139-74.
Braungart MM, Braungart RG. The life course development of left-and right-wing youth activist leaders from the 1960s. Political Psychology. 1990;11:243-82.
Braungart RG, Braungart MM. Life-course and generational politics. Annual Review of Sociology. 1986;12:205-31.
---
The Healing Muse:
Submissions accepted annually September 1 through May 1.
New Medical Student Elective: Physicians & Social Responsibility I
Register for this elective, exploring fundamentals of physicians' responsibilities to improve the health care system. Meets Wednesdays starting November 20. Provides a path towards getting credit for service learning. Details can be found here.