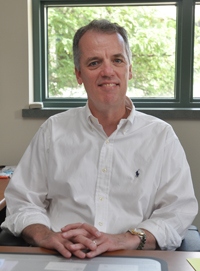 Tom Curran, MD is an Associate Professor of Bioethics and Humanities. Dr. Curran joined the Center in 2008. He received his medical degree from Georgetown University.
Dr. Curran teaches in several venues at Upstate Medical University. His courses include Excellence in Care (formerly ELSIM), Health Care Ethics, and is the course director for Clinical Bioethics in the College of Medicine at Upstate Medical Uniersity. His research interests include neonatal ethics and medical student education.
Dr. Curran is active in the community, serving as Physician Chair of the Crouse Hospital Ethics Council, a member of the Crouse Pediatric Quality Improvement Council, and member of the Crouse Hospital Foundation Board. He is also a fellow of the American Academy for Pediatrics, section of Neonatal-Perinatal Medicine.
Dr. Curran may be reached by phoning 315.464.8457 or by email at currant@upstate.edu.
---