Diana M Gilligan, MD/PhD

Current Appointments
Hospital Campus
Clinical Section Affiliations
Medicine: Hematology and Oncology
Upstate Cancer Center: Medical Oncology
Research Programs and Affiliations
Education & Fellowships
Fellowship: Duke University Medical Center, 1994, Clinical Fellow, Hematology/Oncology
Fellowship: Duke University Medical Center, 1993, Postdoctoral Fellow
Fellowship: University of North Carolina Hospitals - Chapel Hill, 1989, Postdoctoral Fellow
Residency: North Carolina Memorial Hospital, 1989, Internal Medicine
MD/PhD: Albert Einstein College of Medicine, 1985, Anatomy and Structural Biology
BA: Radcliffe College, Harvard University, 1976, Biology
Specialties & Certification
Internal Medicine
Hematology
Diseases & Conditions Treated
Adult Leukemia
Adult Lymphoma
Anemia
Bleeding Disorders
Blood Clots
Chronic Lymphocytic Leukemia
Hodgkin's Lymphoma
Multiple Myeloma
Treats
Treatments/Services
Apheresis
Blood Transfusion
Bone Marrow Aspiration
Bone Marrow Biopsy
Bone Marrow Transplantation (BMT)
Chemotherapy
Infusional Therapies
Lumbar Puncture
Paracentesis
Stem Cell Collection Procedures
Stem Cell Transplantation
Thoracentesis
Associations/Memberships
American College of Physicians (ACP), Fellow
American Society of Hematology (ASH)
American Society for Cell Biology (ASCB)
Current Hospital Privileges
Upstate University Hospital
Crouse Hospital
Publications
Link to PubMed

(Opens new window. Close the PubMed window to return to this page.)
Research Abstract
My research includes studies of the red blood cell membrane skeleton in patients with inherited hemolytic anemia. We are using techniques of comparative proteomics to identify new defects in red blood cell proteins that lead to spherocytosis. We also use mouse models with targeted deletion of red blood cell proteins in order to understand the molecular basis for membrane fragility. We have focused on the family of adducin proteins and we have demonstrated with knockout mice that adducin has a role in red blood cell stability, learning and memory formation, and hydrocephaly. By comparative proteomics, we having recently demonstrated that red blood cells from beta-adducin deficient mice are also deficient in NHE1, the sodium-hydrogen exchanger. This represents a breakthrough in understanding the molecular basis for the widespread functions of adducin. Current studies are addressing the interaction between adducin and NHE1, in order to determine how knockout of adducin can lead to loss of NHE1 in red blood cells.
Clinical Profile Shortcut: http://www.upstate.edu/findadoc/gilligad
Faculty Profile Shortcut: http://www.upstate.edu/faculty/gilligad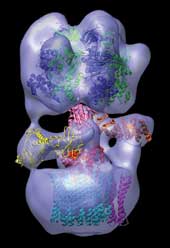 Electron Microscopy reconstruction of the yeast vacuolar ATPase. Ribbon models for individual protein subunits have been fit to the electron density.
From the lab of Stephan Wilkens, PhD.