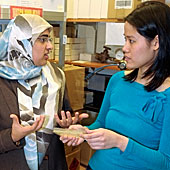 Heba Diab and Sheena Claire Li, PhD students in Biochemistry and Molecular Biology, use the yeast model system to study basic cell functions. Yeast enzymes are similar to human enzymes, which makes yeast a popular tool among researchers.
SUNY Upstate's Biochemistry and Molecular Biology students have a time-consuming advantage—the Virtek pinning robot that transfers individual yeast mutants from one plate to another to test their responses. "It's a nice way to get a lot of data quickly, so you can spend time addressing the major question behind the experiment," said Deb, who studies oxidative stress in cells.
Biochemistry students are at the front end of translational research, conducting the basic science that can lead to treatments for diseases such as osteoporosis and cancer.
Content
MS in Biochemistry and Molecular Biology
The Master of Science degree in Biochemistry & Molecular Biology requires:
20 credit hours of didactic coursework
Advanced research study
An oral defense of an original research dissertation
The duration of the Master's program generally encompasses two years. A Master of Science degree is not a requirement for a PhD in Biochemistry & Molecular Biology. Applicants who ultimately wish to obtain a doctoral degree should apply directly to the doctoral program.

How to Apply
Students wishing to obtain an MS in Biochemistry & Molecular Biology apply through the SUNY Upstate Biomedical Sciences Program.
Application forms and admissions information can be found at the Biomedical Sciences Program home page.

Forms for Download


Advisory Committee Form, Dissertation Form and Thesis Form can be found on the
College of Graduate Studies website