Upcoming Events
No events, please check back later.
WELCOME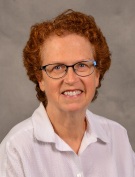 Patricia Kane, PhD
Chair and Professor

The central goals of scientists in the Biochemistry and Molecular Biology department are to research fundamental mechanisms in cells and organisms at the molecular level and to train the next generation of scientists. Read More...
Content
Contact Us
Please feel free to contact us with any questions.
Department of Biochemistry and Molecular Biology
Location:
750 East Adams Street
4265 Weiskotten Hall
Syracuse, NY 13210
Phone:
315 464-5127
Contact: