WELCOME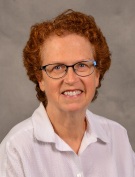 Patricia Kane, PhD
Chair and Professor

The central goals of scientists in the Biochemistry and Molecular Biology department are to research fundamental mechanisms in cells and organisms at the molecular level and to train the next generation of scientists. Read More...
Biochemistry and Molecular Biology
Biochemistry and Molecular Biology
Weiskotten Hall
Rm. 4265, 766 Irving Ave.
Syracuse, NY 13210
Map & directions
Phone:
315 464-5127
Fax:
315 464-8750
Name:
Patricia M Kane, PhD, Chair
Email:
biochem@upstate.edu
The Department of Biochemistry and Molecular Biology offers a highly collaborative research community and an excellent training environment for young scientists.
The field of biochemistry and molecular biology has been transformed in the past decade with the sequencing of the human genome and genomes of other organisms, atomic resolution structures for many important macromolecules, and technological advances that allow integration of this information to address fundamental questions about the structure and function of cells and organisms. These developments create unprecedented opportunities for scientific research and understanding of human health and disease.