Pride in Our Practice
---
2013
---
Patient Recognition
Read what patients and family members are saying about Advanced Practice Clinicians.

Upstate Super Stars
See which Advanced Practice Clinicians have been recognized by patients and familes in Press Ganey and Non-Press Ganey Surveys and CipherHealth Discharge Calls.

Newly Credentialed Advanced Practice Providers
Anesthesiology
Daniel Lopez, CRNA
Medicine
Judith Hamlin, NP
Kimberly Kasprowicz, NP
OB/GYN
Janice Agen, NP
Lesli Warren, CNM
Orthopedics
David Kibby, PA

Archive
QUICK LINKS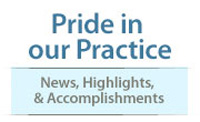 Visit
Upstate Online
for Grand Rounds calendar.
Click "calendar" in the top menu.